It's Friday! And i have some freebies for you all because, simply, i love all these songs and i want to share them with you all ♥
But, let's have a lil chit-chat before you download the files. Apparently i'm going to be really busy for the next three weeks. Exams take up two weeks and i'm going to spend the following week with presentations and papers to work on. And yes, I'm not going to post Shine or Go Crazy review on time. Some of you probably already read on my last post, i'm not going to pick any drama up until May. I'm extremely busy with college this semester since this is my 6th semester and I'm preparing my (undergraduate) thesis, TOEFL test scares me to death, my mind and brain are not ready yet. Can you imagine the stress T_T Anyways, I'm not the only one who's suffering from this stress. There are thousands or maybe million other students who are in the same depression as i am.
The freebies are OSTs from some dramas i enjoyed. I was supposed to post review on these dramas but i couldn't find time to sit myself down and write reviews so that's how i came up with this idea, Friday Freebies!
Flower Grandpa Investigation Team (tvN, 2014)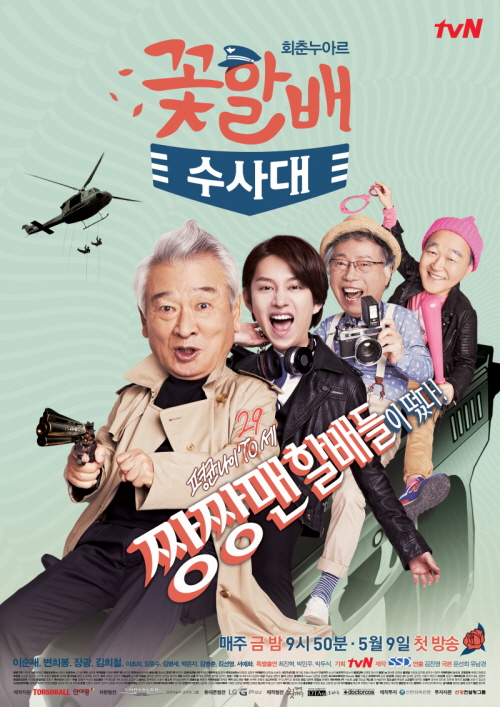 The drama was different, entertaining and funny. Truth is, i wouldn't pick this up if Heechul wasn't one of the main casts i mean…. you want me to watch grandpas? LOL. The plot was ridiculously ridiculous for me -at first- but it became addicting and had me watch all 12 episodes. Watch this drama guys, it's worth it.
Tracklist:
01. 미치게 훅가게 – Ladies' Code
02. 사랑에 빠진 날 – Rumble Fish
Download -> here <-
The Three Musketeers (tvN, 2014)
So entertaining! I beg you to watch this drama if you haven't. Each episode was so exciting. The chemistry between the Prince and Princess was so sizzling. The evil poeple on this drama was so evil and wicked and i couldn't help but swearing at them and wanted their character to die asap LOL. But seriously, give it a try, You won't Regret it.
Tracklist:
01. 칼 – 김용진 (Kim Yong Jin)
02.기도 – 카이 (Kai)
03. All For One (Feat. 딘딘) – 녹스 (NOXX)
04. 꽃이 피듯 – 유미 (Youme)
To download click -> here <-
You Who Came From The Stars
If you haven't watched this show OR have but haven't downloaded the OST, here i'm sharing the link to download the gorgeous babies.
To download click -> here <-
The 4th freebie is not related to any drama, it's actually a software. P h o t o s h o p C S 6 full version. I found the link on weibo, i downloaded it and installed it on my laptop and it works perfectly. Don't worry about virus, trojan or all, it's totally safe, there's nothing wrong with my laptop after i installed it. Enjoy your P S C S 6 for free ihihihi
To download click -> here (4shared) , here (pan baidu),  <-
Have you watched PSY's new MV titled "Father" ? If you haven't please please please watch it. I watched it and I cried like a baby. It's very touching and sad. You'll love your father more after you watch the MV. I personally felt horrible. I've made so many mistakes in my 21 years I'm living with my father and I'm really sorry. It's not that i can say, "Dad, I'm sorry." it's not as simple as that. Dad, if you happen to read this, I love you. And i mean it.
For those who want to watch the MV, here's the video
PSY – FATHER (with Lang Lang) M/V: