I watched significantly more dramas this year than last year but I don't have enough time to draft review for each drama I watch. I usually don't post it and don't even put up the drama title on "review page". But this year I want to document every single drama I watch so even if I drop it or I finish all ep but can't write full review I want to document these dramas too in this blog. So I came up with this idea of having a roundup post instead! So this post is the summary of dramas I've watched in 2020 that I have not and will not post a dedicated review.
This post is a part of my year end series. The series will consist of 3 posts; dropped dramas in 2020 roundup, finished dramas in 2020 roundup, and best OST in 2020. Now, shall we start? (ps, dramas are listed based on their airing period)
Kill It (OCN, 2019)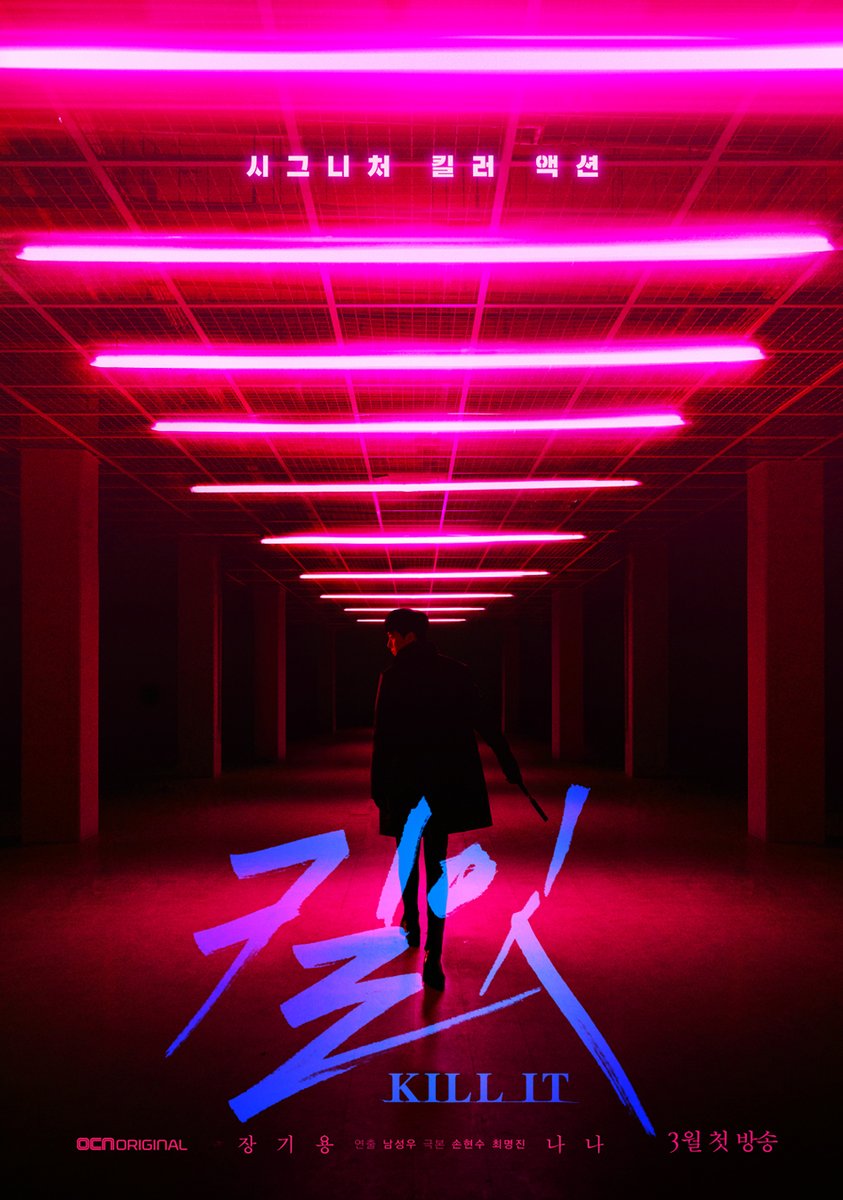 The drama that made me Jang Ki Young's fan. He looked extraordinary here lol please excuse my fangirling moment. The drama started off with a bang and we knew right away what kind of person Kim Soo Hyun was (Jang Ki Young's character). It was fancy! With the fight and gun scenes and all were well choreographed. Ugh OCN you made a great drama here. The secrets were revealed one by one, always so shocking to know something new in this drama.
A little rant moment here, just because the title is "Kill It" doesn't mean you have to kill someone at the end ☹ Kim Soo Hyun and Do Hyun Jin (Nana) made a great chemistry not only because they already knew each other since they were young but also because when they met again years after that, they sort of shared the same pain and consoled each other. So when Kim Soo Hyun was killed at the end it was really saddening because we know just how much they actually cared and longed for each other. But oh well, the ending was actually fitting. The writer did a great job at writing a tragic story. The "tragic" vibe was felt since episode 1.
There were loop holes, for example the Russian killers for what? But as a whole the entire drama was such a feast. The plot was good as I mentioned above, the cinematography was goooood! It wasn't even part of OCN Dramatic Cinema but the cinematography was movie-tier. The directing, the execution and clever BGM play. I liked how the team set the color tone for this drama, darkish and muted color, it added more suspense.
Final Score: 8.5/10
Stranger From Hell (OCN, 2019)
I had a hard time finishing this one. Every episode was pretty suffocating. The vibe was too eerie, unsettling. The drama did a great job in portraying the depressing mood. The production team did a great job making the webtoon came to life. The webtoon is still the best, though. I mean, the drama was a bit draggy in the middle and some details from the webtoon were omitted which honestly was a bit disappointing.
The drama did some changes/addition and it was not that bad but was it necessary? I'm talking about Lee Dong Wook's character here. Lee Dong Wook pretty much didn't fit the character too so… SFH was part of OCN Dramatic Cinema which that's the reason of its short total episode.
As a whole if you're a fan of the webtoon this might be for you. The drama was too good at bringing the webtoon to life that I actually felt uncomfortable at times while watching this. It's probably a negative watch as I don't feel good after watching.
Final score: 7/10
Graceful Family/Elegant Family (MBN, 2019)
Not exactly everyone's cup of tea since it's rather heavy but if it's your preference then please give this a shot. A good drama with tight plot and great music score. The acting was also good too! GF was really underrated which I honestly understand why. It's from a cable channel which doesn't air drama, usually. And even their aired dramas got mainly mixed reviews so when GF aired, people were kind of hesitant to give it a shot.
But GF is worth it! The plot was really fancy at first but soon it deepen as our FL, Mo Seok Hee (played by Im Soo Hyang) fought for herself, Heo Yoon Do (played by Lee Jang Woo) sought for justice and it generally stayed tight until the end. There was no good guys or bad guys because everyone was the bad guy! The romance was a bit unnecessary but oh well it's not kdrama if there's no romance thrown in. Some said GF was makjang, but who doesn't love makjang!
Every character was very distinctively different from one another, and it added so much fun to watch because of the diversed characters. The casts also delivered a great job at their respective role.
Final score: 8/10
Hot Stove League (SBS, 2019 – 2020)
Even if you have no knowledge on baseball, HSL is still very enjoyable. This drama told us a baseball team called Dreams and how all Dreams team members (staffs and also the athletes) worked together to defend their team, to chase after and protect their dreams. This drama is very close to my heart because we got through the thick and thin together. When Dreams finally made it through and was about to achieve their #1 dream, I had this sense of achievement. Like, sort of a relieve too. The plot was actually really simple but I got so invested to every single character. A drama that's very comfortable to watch with no necessary headaches.
And oh oh oh, HSL won Best Drama award at the 56th BaekSang Arts Awards!
Final score: 10/10
Tell Me What You Saw (OCN, 2020)
A typical OCN drama. I actually had a hard time finishing TMWYS because of its goriness especially past midway. The writer did a good job at maintaining the vibe and flow. The plot did not weaken even a bit. The twist blew my mind. As for the acting department, all acting gods were in this drama. Jang Hyuk, fits this type of role so bad! Maybe that's why he always picks an OCN drama once in a while -even though we all know his OCN characters were pretty much a copy-paste of the previous character he played.
A great introduction to Jin Seo Yeon she oozed with charisma throughout the run. Choi Soo Young evolved! Really nice to see her in dramas and she nailed this one.
Final score: 9/10
Hyena (SBS, 2020)
The female lead was such a badass, a breath of fresh air in kdramaland, all hail to Kim Hye Soo the queen. The chemistry was basically on fire, they were so charismatic individually but who knew that they would match with each other so well!
The characters were powerful individually but the writer managed to make these intellectual lawyers to work with each other without overshadowing one another. Hyena focused on politics with a slight dose of romance here and there. I think it's the appropriate amount of romance because if the romance was added just a little bit more, Hyena would be just another romance drama between 2 lawyers.
The "revenge" was a bit anti-climax but we can always overlook that since every episode was such a serve. Oh don't forget the iconic OST! Giriboy's Hyena is a must listen!
Final score: 8/10
Hospital Playlist (tvN, 2020)
A drama that everyone loved so dearly and we are all in unison that we need season 2 right now right this moment! HP was odd, it's a medical drama but with band and all. HP also had no concreate plot, more like retelling the daily life of doctors and nurses. The cases were also interesting, many of them I didn't know before so I also learnt something new.
The details, ugh, top notch. Many doctos and nurses posted their review of HP to Youtube and all of them praised the detail, the sets, the procedures. The sets were pretty much copy-paste of actual hospital, including the machines and props.
The band element was new! At first I thought it was unnecessary because filming a drama is a hard work already why should the cast learn how to play instruments. But this band element was another thing that put HP apart of other medical dramas. Mido and Falasol made HP very distinct. The band (and also the members) topped music charts everywhere when they released the songs (at the moment I'm writing this post on 14 Dec 2020, Cho Jung Seok's Aloha is still at top 50 on MelOn, Jeon Mi Do's I Knew I Love is still at top 100!).
Overall, a feel good drama that will put a smile on your face. Highly recommended!
Final score: 10/10
It's Okay To Not Be Okay (tvN, 2020)
Ugh I have this problem that I always push back drafting the review of my most favorite drama because the moment I finish drafting I always feel like I officially put that drama as part of my memory, sort of parting. And I don't want that. It's always awkward to write a review of dramas that hold special place in my heart. That's the case with IOTNBO. I tweeted how much I loved this drama throughout its broadcast period and felt a little bit empty when it concluded its run. I always told myself to write a proper review of IOTNBO to officially bid my goodbye but I always pushed that back (the same goes with Kill It too).
IOTNBO did great in delivering how people with mental illness are like in their day-to-day life and their point of view. I especially liked how the drama in episode 2 dedicated 3+ mins of how someone who has autism sees the world. They made it really fun and really helped us to understand them more. IONTBO also incorporated fairytales to the plot and it was actually a beautiful way to raise mental illness awareness. I mean every fairytale in this drama somehow painted how the characters in this drama "survived" the world. Don't forget the metaphors! Go Moon Young with her clothes, zombie kid, happy puppy for examples.
Casts were so good! I can't even imagine the roles being played by someone else. The cinematography, editing, pacing were so so good too! IOTNBO had the best elements and it's safe to say that it's also one of the finest dramas produced in 2020. Oh also, Oh Jung Se needs to get an award for his acting in this drama!!
Final score: 10/10
Sweet Home (Netflix, 2020)
I haven't read the webtoon yet so I cannot compare which one is better. As a stand alone series, Sweet Home was one good one to kill time (if you're ok with monsters and bloody scenes). It started so well. I got really shocked when the woman in ep 1 started to turn into a monster, it was really bloody. Revision, the drama as a whole was bloody af! And scary af!
It'd be nice to explain how these monsters suddenly appeared and infected people and turned them into monsters too. In later eps they said that the monster could take on any body to make it its host. I'm honestly a bit confused here whether it was the case with every monster or just special monster (like Hyun Su and that boy in last 2 eps)? Hyun Su said that not every monster would kill humans, some wanted to protect the humans but how he came into this conclusion was not explained (ahjumma case?)
More rants, I wished they kept more monsters to keep the suspense until the end. The monsters in the basement suddenly disappeared when just minutes ago they fought against 10+ monsters there and they barely survived. The monsters were supposed to be very sensitive with sound but the amount of gun shots they had in last 2 eps but no monster appeared. Not a single one. Sometimes the BGM didn't fit, they were played at the wrong time. The last ep hinted a second season which I honestly really look forward too. With still many unanswered questions they could explain it more in the second season. Again, I have not read the webtoon.
The cinematography was good! The CG also looked good! The acting was hella good! A nice introduction to the young actors in this drama, Go Min Si, Song Kang, Lee Do Hyun, and Go Yoon Jung. This series is never meant to be watched twice, it'll ruin your sleep. Don't watch this at night, you won't be able to sleep!
Final score: 8/10